Dental Implants in Milwaukee, WI
Why Dental Implants?
Dealing with tooth loss can be stressful as an adult; however, dental technology has come a long way so that our dental team can provide you with restorations that look and function just like natural teeth. Here at The Dentists South Shore, we pride ourselves on providing the highest quality dental restorations to meet your need. We believe in the true artistry and craft involved in creating your dental implants, so you know that when you choose to get a dental implant with us that you will have a tooth replacement that is as close to a natural tooth as you can get.

While a lot of people have heard of dental implants they aren't entirely sure what they are or how they function. Implants are unlike any other tooth replacement you can get because they actually take the place of tooth roots. Of course, in order for an implant to take on the role of tooth roots, it will need to be implanted into the jawbone by our very our three Milwaukee, WI local dentists.

Our Milwaukee dentists want to ensure that anyone who walks through the door wanting to get dental implants understands the process and procedures involved so that they can make an accurate and informed decision regarding their oral health. We know that tooth loss can be upsetting but dental implants are truly the next best thing to natural teeth and we know you won't be disappointed with the final results.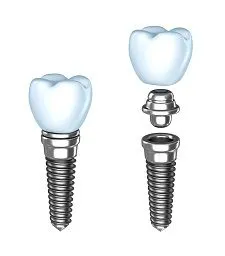 First and foremost, we want to make sure that you are healthy enough for implants. Our dentists will spend one-on-one time with you to check your oral and general health, conduct a physical exam and run x-rays to make sure that your treatment goals align with what implants can offer.

While implants are an advanced tooth replacement system we also understand that some patients want a more economical option or don't want to go through surgery in order to get a replacement tooth. By sitting down with our dental team here in Milwaukee, we can ensure that there are no surprises when it comes to restoring your smile.

It can take up to a year or more to get your implant; however, once you have this implant you could enjoy it for the rest of your life. Dental implants boast a high success rate and coupled with our dental team's advanced dental implant training, we know that you will get a long-term restoration that you'll be happy with.

Whether you are missing one or all of your teeth, it's the perfect time to call The Dentists South Shore office to find out if dental implants could finally give you back that healthy smile.
If you have questions about getting dental implants or other tooth loss solutions in Milwaukee, WI, then call our office now! The Dentist South Shore is here to help! Call our office at (414) 483-1600 for questions or a consultation. Call today!