Posts for tag: dental implants
By The Dentists South Shore
May 22, 2019
If you've got a missing tooth — or even many missing teeth — you may consider a dental procedure to fill in the gaps and renew your look.
Treatments like dental implants not only replace your missing tooth but helps you avoid other side effects of gaps in your smile. Find out more about dental implants and how they can benefit you with Dr. Tom Charapata, Dr. Christian Harteau, and Dr. Mike Golovin at The Dentists in South Shore at one of their two locations in Milwaukee, WI.
Parts of a Dental Implant
Unlike other tooth replacement options, dental implants replace both the tooth and its root. Thanks to its design and quality materials, an implant is a permanent addition to your smile, lasting a lifetime with the proper care. Understanding how an implant works is easiest if you understand its different components:
Fixture: The implant's fixture is placed directly into the bone under your missing tooth to take the place of your missing root, holding the other parts of the implant firmly in place.
Abutment: An abutment connects the implant's fixture to its prosthetic.
Prosthetic: The prosthetic is a porcelain tooth replacement which replaces your tooth above the gum line. The replacement tooth looks, feels, and functions like a natural tooth.
Can a dental implant help my smile?
If you have one or several missing teeth, you may benefit from a dental implant to fill in your gaps. However, implants don't only replace single teeth, they can also replace all of the teeth on an arch as part of an implant-supported denture. This restoration replaces all the teeth on an arch to restore your entire smile.
Dental Implants in Milwaukee, WI
Dental implants are a surefire way to renew your gapped smile, restore your look and the functionality of your teeth. Missing teeth can cause issues such as shifting teeth and bone atrophy, causing problems with chewing and eating. Repairing your smile helps eliminate these unfortunate side effects and ensure that you can eat, speak, and — most importantly — smile with confidence.
For more information on dental implants, please contact Dr. Charapata, Dr. Harteau, and Dr. Golovin at The Dentists in South Shore at one of their two locations in Milwaukee, WI. Call (414) 877-0840 to schedule your appointment at the Howell Avenue location or (414) 483-1600 to schedule your appointment at the Layton Avenue location today!
By The Dentists South Shore
October 22, 2018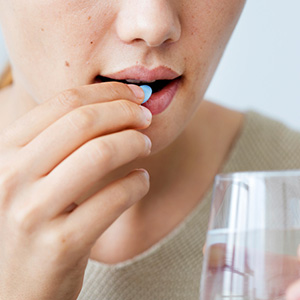 Placing a dental implant within the jawbone requires a surgical procedure. For most people it's a relatively minor affair, but for some with certain health conditions it might be otherwise. Because of their condition they might have an increased risk for a bacterial infection afterward that could interfere with the implant's integration with the bone and lead to possible failure.
To lower this risk, dentists for many years have routinely prescribed an antibiotic for patients considered at high-risk for infection to take before their implant surgery. But there's been a lively debate among health practitioners about the true necessity for this practice and whether it's worth the possible side effects that can accompany taking antibiotics.
While the practice still continues, current guidelines now recommend it for fewer health conditions. The American Dental Association (ADA) together with the American Heart Association (AHA) now recommend antibiotics only for surgical patients who have prosthetic heart valves, a history of infective endocarditis, a heart transplant or certain congenital heart conditions.
But patients with prosthetic joint replacements, who were once included in the recommendation for pre-surgical antibiotics, are no longer in that category. Even so, some orthopedic surgeons continue to recommend it for their joint replacement patients out of concern that a post-surgical infection could adversely affect their replaced joints.
But while these areas of disagreement about pre-surgical antibiotics still continue, a consensus may be emerging about a possible "sweet spot" in administering the therapy. Evidence from recent studies indicates just a small dose of antibiotics administered an hour before surgery may be sufficient to reduce the risk of infection-related implant failure with only minimal risk of side effects from the drug.
Because pre-surgical antibiotic therapy can be a complicated matter, it's best that you discuss with both the physician caring for your health condition and your dentist about whether you should undergo this option to reduce the infection risk with your own implant surgery. Still, if all the factors surrounding your health indicate it, this antibiotic therapy might help you avoid losing an implant to infection.
If you would like more information on antibiotics before implant surgery, please contact us or schedule an appointment for a consultation. You can also learn more about this topic by reading the Dear Doctor magazine article "Implants & Antibiotics: Lowering Risk of Implant Failure."
By The Dentists South Shore
July 17, 2018
Dental implants can restore your smile by closing the gaps from missing teeth. Dental implants can be used to securely anchor dental
crowns or bridgework in place. When used with crowns, dental implants help close small gaps by replacing individual missing teeth. When used with bridgework, dental implants help close larger gaps by replacing multiple missing teeth all at once. At The Dentists South Shore, Dr. Tom Charapata, Dr. Christian Harteau, and Dr. Mike Golovin are your dentists for dental implants in Milwaukee, WI.
Dental Implants
Dental implants function similarly to tooth roots by holding artificial teeth in place. Dental implants are hypoallergenic titanium posts placed below the gum line. They are capped with dental crowns, which are artificial teeth. The dental implant serves as the root anchoring the dental crown in place. Only the dental crown is visible once all parts are in place. The dental crown looks like a natural tooth and no one will be able to tell it is artificial. The crown also functions like a natural tooth and can be used to bite and chew food.
Benefits of Dental Implants
Dental implants offer multiple benefits beyond closing the gaps in your smile. By filling in the gaps in your smile, dental implants help restore the natural shape of your face. Dental implants also help by minimizing strain and extraneous wear and tear on the natural teeth surrounding gaps. When teeth are missing, the remaining ones take on the biting and chewing functions previously performed by teeth that have been lost or pulled out.
An additional benefit of dental implants is that they are long-lasting. With proper care, dental implants can last for years without any risk of falling out, coming loose, or slipping out of place. Your dentist in Milwaukee can help you determine if dental implants are right for you.
You can finally close the gaps in your smile permanently. Dental implants with crowns or bridgework replace missing teeth and their roots. For dental implants in Milwaukee, WI, schedule an appointment with Dr. Charapata, Dr. Harteau, and Dr. Golovin by calling The Dentists South Shore at (414) 483-1600.